Product List
Japanese traditional boxwood combs (Tsuge Gushi)
Japansese Traditonal Boxwood Combs Retail Shop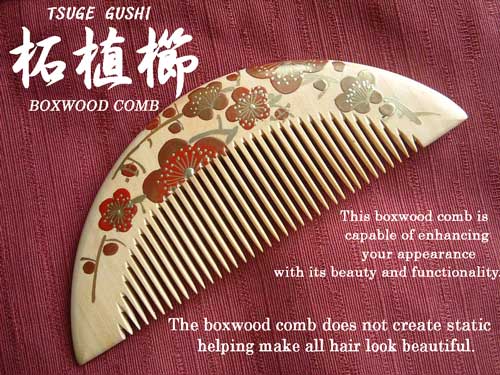 All boxwood combs are made from Satsuma-Tsuge (The highest class boxwood)

Japanese boxwood combs are sold well in gift shops,hair salons, beauty salons,
General Stores, clothes shops,souvenir shops, and online shops, etc.
Our boxwood comb is the traditional craft goods
that the governor of Osaka Prefecture of Japan specified.

Boxwood comb is the culture of Japan.
Our boxwood comb is the highest class in Japan.
If you use the boxwood comb, your hair becomes very beautiful.
The number of the hair loss and slice hair decreases when you use the boxwood comb.
The boxwood comb is good for not only the hair but also the scalp caring.
This boxwood comb is capable of enhancing your appearance with its beauty and functionality.
The boxwood comb does not create static helping make all hair look beautiful.

The boxwood comb can be used longer than tens of years
if it politely uses it while maintaining it by camellia oil.
Japanese Boxwood Comb suits Kimono,Yukata,Haori coat,Kanzashi,
Geisha Girl,Samurai,Ninja,Sumo and so on.
The maiko and the geisha girl in Kyoto still use the boxwood comb.
The boxwood comb is used for a traditional Japanese hairstyle.
The boxwood comb is popular among the Japanese girl and the Japanese woman
for a long time as the traditional culture of Japan.
A beautiful lacqering and the engravings such as plum blossoms and cherry blossoms are Japanese beauty.